Our Commitment to Quality
Coffee
Our assistant director learned the essence of Hand Dripped Coffee at "Japan Food Beverage 2018."
We conducted extensive research on coffee beans and we are committed to using beans that are roasted and kept under strict temperature control. We keep our beans fresh and fragrant by limiting the amount that we order and grind although this may be less efficient.
Our coffee beans are provided by "TAKARADANI COFFEE" which is the coffee department for Chant de Gâteaux, which produces a special collaboration coffee for UTSUROI.
Bread and Baked Goods
Our director is a certified "Bread Coordinator" which requires both a correct and deep knowledge of bread and cuisine. Our bread was co-developed by UTSUROI and a bakery located in Toyooka City called "Pan and Canelé (Bread and Canelé)".
Our theme is "bread that makes your whole body happy" and we use only the finest selected ingredients including Japanese flour and local organic whole wheat flour.
Also popular are the delicious, baked goods produced locally by Chant de Gâteaux.
Ingredients
Kinosaki Onsen is located in the "Tajima Region" in Northern Hyogo Prefecture. This area includes the San'in Kaigan National Park (a designated natural park) and is a region that is rich in the beauty of the changing four seasons. The clean air and water supports the self-sufficient life of important animals and plants.
Also, the temperature difference between summer and winter is quite large. It is said that the sweetness and delicious taste of vegetables is brought out to the fullest in harsh environments and so the climate brings great benefits to Tajima vegetables. All our sandwich fillings at UTSUROI are produced locally in the Tajima area.
Store Interior & Gallery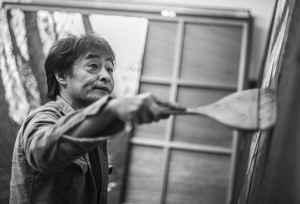 Japanese Painter Tsuyoshi Yamada

There are numerous beautiful "Nihonga (Japanese Paintings)" decorating the interior. These are all paintings done by the Japanese Painter Tsuyoshi Yamada who was born and raised at Tsuchiya Ryokan.
After graduating from Kanazawa College of Art, his art was selected to be included in "100 selections of Famous Works of Nihonga" and has won numerous prizes related to Nihonga. He currently operates an atelier in Kyoto and is also a lecturer at Takarazuka University.
Tsuyoshi Yamada's works feature the scenery of Tajima with a bold sense of composition and an overwhelming sense of depiction as well as a beautiful sense of color. Viewing his works gives you a sense of nostalgia as if you are seeing an excerpt of an old memory and you can view his works in the GALLERY.